Vision Mission and Values of Dek Noi Pattana
Our Vision
"All Thai children benefit from a high-quality early childhood development program".
Our Mission
"Pilot innovative projects for teacher training and coaching and engagement of parents and communities that are focused on children's empowerment"
"Support local authorities and other stakeholders in replicating, scaling up and sustaining such projects across the country's 19,000 ECD centers"
"Facilitate engagement of and interaction among key stakeholders in ECD at national and local levels to promote sustainability and increase public awareness of its critical importance"
Our Values
Professional excellence
Innovative thinking
Trust and partnership
Transparency and accountability
Open communications and teamwork
Deep respect for local context and customs
Pilot Project
The activities of the Foundation build on the results of a very successful pilot project for early childhood development carried out in Surin between 2014 and 2018.  For more details, please see Progress Reports.
Objectives:
Capacity building of teachers and caretakers to implement a high quality integrated early childhood development programme.

Ensuring that the programme helps develop the potential of all children in an integrated manner (physical, intellectual, social and emotional development).

Contributing to the sustainability of the programme by working with all concerned stakeholders (teachers/caretakers, parents/grandparents, education committees and tambon and provincial officials) to enhance their effectiveness in monitoring and managing the centers.
Donraed Early Childhood Development
This project supports the development of children's life skills through literature at Watchaisria-Ard Early Childhood Learning Center, Donraed subdistrict, Surin, Thailand.
Progress Reports
The reports focus on the progress made with respect to the implementation of the project, the results as reflected in the development of the children's physical, emotional, social and intellectual skills and the allocation of technical and financial resources. It concludes with a brief discussion of the establishment of the Dek Noi Pattana Foundation.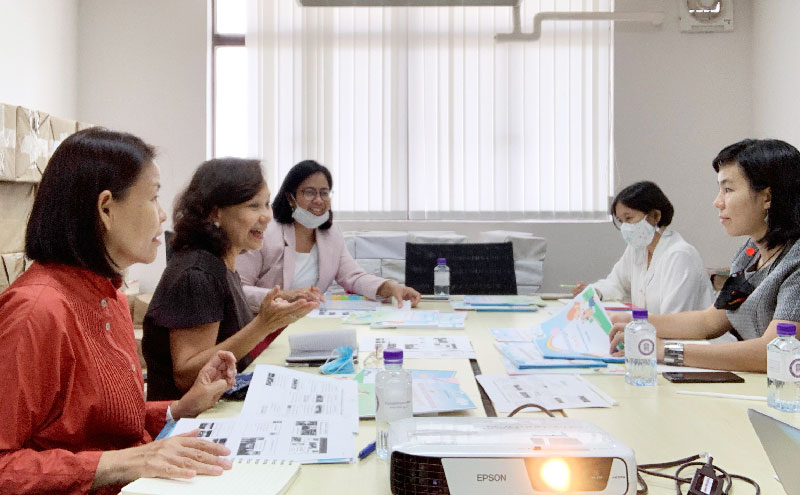 JFK Foundation of Thailand
Thailand Collaboration For Change
Board of Directors and
a Management Committee
Khun Ian Porter
Chair (former Country Director, World Bank)
Development Economist; spent most of his career at the World Bank where his last position was Country Director for SE Asia, based in Bangkok
Khun Omporn Lulitananda Regel
Vice-Chair (former Senior Education Specialist, World Bank)
Khunying Kasama Varavarn
(former Permanent Secretary, Ministryof Education)
Member of the Board of the National Economic and Social Development Council; former Permanent Secretary, Ministry of Education
Khun Aswin Kongsiri
Chairman of the Board, CH. Karnchang Public Co Ltd; has spent most of his career in the Thai private sector including serving as President of the Industrial Finance Corporation of Thailand and serving on the Board of Directors of a number of prominent Thai companies
Khun Tanatat Puttasuwan
Consultant on Financial and Risk Management; previously worked with Population and Development International, a U.S.-based non-profit, as well as with the World Bank
Khun Pamornrat Tansanguanwong
Senior Social Development Specialist at the World Bank; has spent most her career at the World Bank focusing on community development, gender and social inclusion, and peace-building
Khun Supakit Simuan
Personal Fitness Trainer and Yoga instructor; was born in Donraed, Surin and was the originator of the pilot project
Khun Parinya Wansuk
Deceased; worked for many years as a driver for foreign families living in Bangkok and most recently for the Porter family
Khun Ian Porter
Development Economist; spent most of his career at the World Bank where his last position was Country Director for SE Asia, based in Bangkok
Khun Nitaya Chatnantawej
Resource Management Specialist at the World Bank Office in Sydney; previously worked with the World Bank Office in Bangkok and with the Bangkok offices of other international organizations