EVENTS & ACTIVITIES
Making the Most of the Opportunity to Engage
Virtual Meeting
July 20, 2021 – DNPF team visited the ECD center and school at Kantuad-
ramaul Subdistrict Municipality.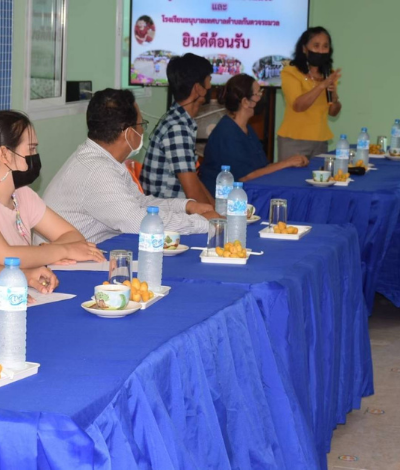 Visit ECD Center
July 8, 2021 – DNPF team visited the ECD center and school at Kantuad-ramaul Subdistrict Municipality.
Document Review
July 7, 2021  Reviewing of lesson plan for the SRRU demonstration school.
Finalizing of the article about the impact of Covid in ECD.
Coaching and Monitoring
June 24-25, 2021  Coaching and monitoring of SRU demonstration school to check with teachers whether there are any issues/challenges face during the two weeks of the school opening.
Ready To Open
June 9-11, 2021 – DNPF team met with the school management to make sure that all parties are ready for the school opening on 14 June.
Meeting The SRU Teachers
May 27-28, 2021 – Meeting with teachers from SRU demonstration school to discuss skills/techniques in designing classroom setting and activities corners to enhance children cognitive skill.
Consultation Meeting
April 30, 2021 –  Consultation meeting with the school management, teachers and pre-service teachers on classroom setting and activities corners.
Strengthening The SRU
April 23, 2021 – Meeting with teachers from the SRU demonstration school.  The meeting is part of the DNPF's support in strengthening SRU Demonstration ECD center. The teachers reflected their thoughts in different areas such as working with peers and self-reflection.
Meeting at Ban Tra Bak School
April 8, 2021 – Meeting with Meechai school at Ban Tra Bak School with members of Salakdai SAO, Ban Tra Bak School principal, teachers and students in 4-6 grade, education committee and health volunteers, a total of 120 persons.
Preparation Meeting
April 3, 2021 – Preparation meeting for the bi-annual teachers training with 10 ECD teachers and SRU professors.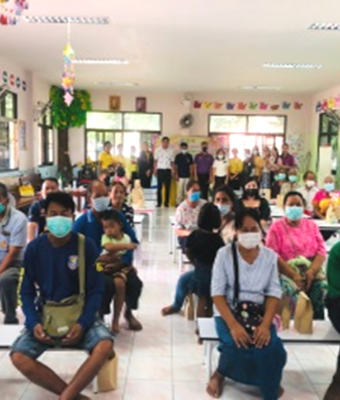 Knowledge Sharing Session
March 24, 2021 – Knowledge sharing session with teachers and parents of Wat Chai Prakhom ECD center. Topics included the national ECD standards and development of children skills as well as how to organize play and learning activities at home.
Khok Klang ECD Center
March 19-21, 2021 – Helping to improve the environment settings of Khok Klang ECD center in Burirum. Distributing responsibilities between the teachers for a smooth transition in facilitating the daily activities.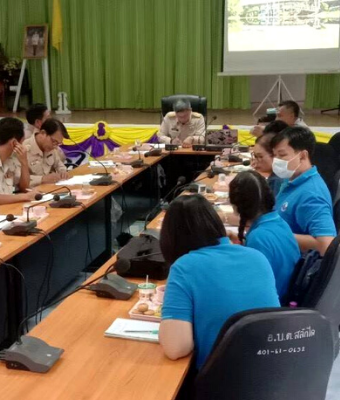 School Partnership Project
March 8, 2021 – Meeting with Khun Meechai Veravaidya's team on School Partnership project, Slakdai sub-district.  The aim is to improve the quality of education through; school-based management, capacity of building of teachers and learners.
Montessori ECD Center
March 5, 2021 – Visiting the Montessori ECD center in Roi-Et with DNPF team members and SRU students.
Baan Rasai Songchan ECD Center
March 3, 2021 – Coaching at Baan Rasai Songchan ECD center, Nadee
Focusing on designing of daily activities!
"Encouraging children to present their work and ideas as well as welcoming questions from their friends"!
Learning By Doing
February 15-18, 2021 – Coaching of rooms 1 and 2 of Ban Krathom Phrong ECD center in Nadi SAO.
Coaching teachers in room 1 on how to give children opportunities to learn on their own.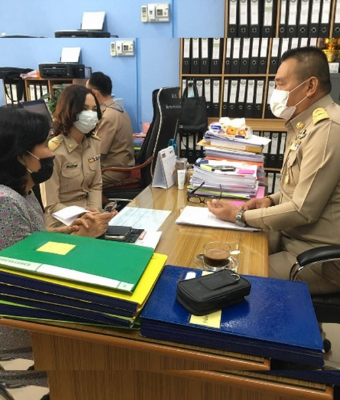 Meeting with Provincial Officer
February 8, 2021 – Meeting with Provincial Officer to update DNPF's upcoming activities including the preparation for the bi-annual teacher training.
Ban Nong Prue ECD Center
February 3-4, 2021 – Coaching of Ban Nong Prue ECD center, room 1 and 2, in Tani SAO. The center are progressing in many areas and the children are learning to help themselves.
Parenting Education
January 25-26, 2021  Information sharing session with 40 parents from Bam Kam ECD center, Bukrang SAO by DNPF and SRU.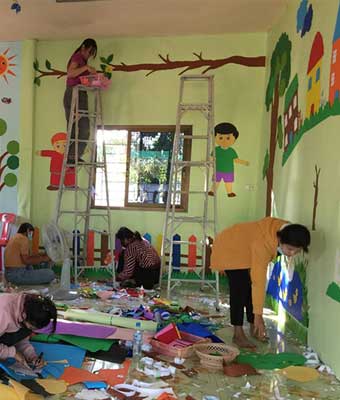 Decoration & Improvement
January 7-8, 2021 – Designing and expanding learning space at Wat Nikhomkhet ECD center, classroom no. 1
Visit Thambon Tani
January 5, 2021 -Visiting 3 ECD centers in Tani SAO and conducted a meeting with Tani SAO committee.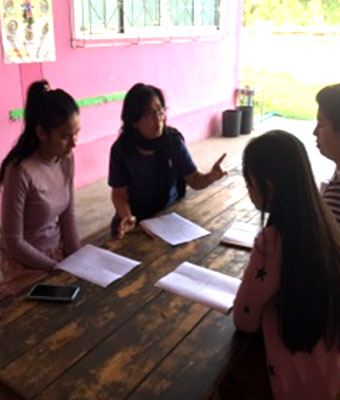 Activities Plan for 2021
December 25, 2020 – Consultation session with DNPF team on activities plan for 2021
coaching and mentoring plan by NIST: buddy system
support Kok Klang ECD center in Buriram
training for community leaders in Salakdai and Donraed
Study visit to Mechai Bamboo School
December 18, 2020 – DNPF team, SRU, Rajabhat Buriram and Kok Klang SAO visited Mechai Bamboo School, Kok Klang, Lamplaimas, Buriram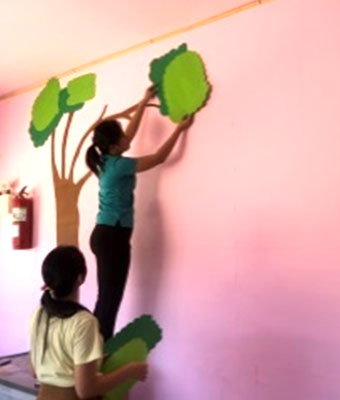 Expanding Learning Space
December 15, 2020 – Designing and expanding the learning space of classroom no. 1, by adding learning corners i.e. educational games, creative arts, music and science etc.
Meeting at the DLA Office
December 3, 2020 – DNPF team met with the Director-General of the Department of Local Administration (DLA) and team, to update DLA on the result of the implementation of national guideline to monitor children competencies and to discuss the possibilities of holding a national forum on ECD.
Creating Wood Playground
November  17-18, 2020 – Creating a safe and supporting learning environment in Baan Krathomprong with the support from Nadee community.
Adding Creativity Corners
November 3, 2020 – Creating creativity corners for Nong Sanit Early Childhood Education Center.
Training on Active Learning
October 26-30, 2020 – "Building the competency of the children through Active Learning activities in their daily routine" training program for 85 participants by DNPF team, SRU,  Salakdai and Donraed SAO.
Launching Training Series
October 26, 2020 – The Director General of the Department of Local Administration opened the Training on the Design of Capacity Development for Early Childhood based on the daily activities and Active Learning Method held 26-30 October 2020 at SRU.
Volunteer Opportunity
Feb. 4, 2020 – Surin Rajabhat students led by Ajahn Piyanun and Ajarn Pongnapa join the Early Childhood Development Volunteer Activity at the Child Development Center, Chaiyaprakom Temple, Salakdai Subdistrict, encouraging teachers. And activities are encouraged to educate parents in the early childhood development. There were many parents participating in this event as well.