EVENTS & ACTIVITIES
Making the Most of the Opportunity to Engage
Parenting Education
January 25-26, 2021  Information sharing session with 40 parents from Bam Kam ECD center, Bukrang SAO by DNPF and SRU.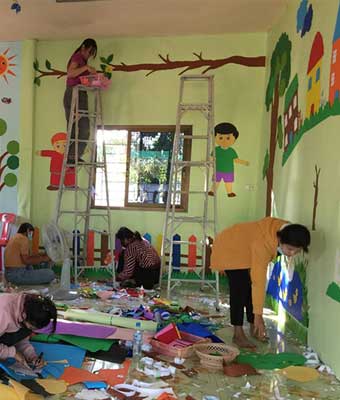 Decoration & Improvement
Jan. 7-8, 2021 – Designing and expanding learning space at Wat Nikhomkhet ECD center, classroom no. 1
Visit Thambon Tani
Jan. 5, 2021 -Visiting 3 ECD centers in Tani SAO and conducted a meeting with Tani SAO committee.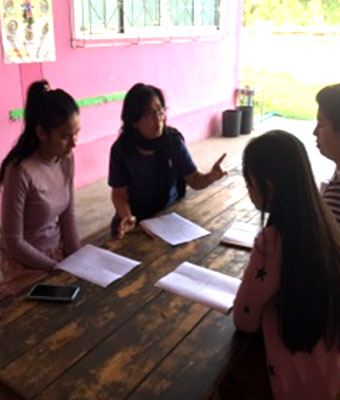 Activities Plan for 2021
Dec. 25, 2020 – Consultation session with DNPF team on activities plan for 2021
coaching and mentoring plan by NIST: buddy system
support Kok Klang ECD center in Buriram
training for community leaders in Salakdai and Donraed
Study visit to Mechai Bamboo School
Dec. 18, 2020 – DNPF team, SRU, Rajabhat Buriram and Kok Klang SAO visited Mechai Bamboo School, Kok Klang, Lamplaimas, Buriram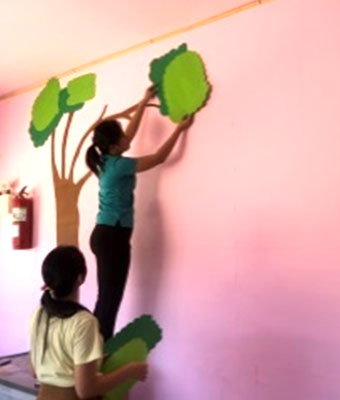 Expanding Learning Space
Dec. 15, 2020 – Designing and expanding the learning space of classroom no. 1, by adding learning corners i.e. educational games, creative arts, music and science etc.
Meeting at the DLA Office
Dec. 3, 2020 – DNPF team met with the Director-General of the Department of Local Administration (DLA) and team, to update DLA on the result of the implementation of national guideline to monitor children competencies and to discuss the possibilities of holding a national forum on ECD.
Creating Wood Playground
Nov. 17-18, 2020 – Creating a safe and supporting learning environment in Baan Krathomprong with the support from Nadee community.
Adding Creativity Corners
Nov. 3, 2020 – Creating creativity corners for Nong Sanit Early Childhood Education Center.
Training on Active Learning
Oct. 26-30, 2020 – "Building the competency of the children through Active Learning activities in their daily routine" training program for 85 participants by DNPF team, SRU,  Salakdai and Donraed SAO.
Launching Training Series
Oct. 26, 2020 – The Director General of the Department of Local Administration opened the Training on the Design of Capacity Development for Early Childhood based on the daily activities and Active Learning Method held 26-30 October 2020 at SRU.
Volunteer Opportunity
Feb. 4, 2020 – Surin Rajabhat students led by Ajahn Piyanun and Ajarn Pongnapa join the Early Childhood Development Volunteer Activity at the Child Development Center, Chaiyaprakom Temple, Salakdai Subdistrict, encouraging teachers. And activities are encouraged to educate parents in the early childhood development. There were many parents participating in this event as well.