EVENTS & ACTIVITIES
Making the Most of the Opportunity to Engage
Monitoring of ECD competency
October 18-19, 2021 – The DNPF team continued with data collection and monitoring of children's skills according to the domains and indicators at Nong Sanit ECD center with the teachers. The results of the monitoring and observation of children's skills were further discussed in the afternoon. Teachers were also assigned to work further with children individually on some indicators.The teachers seemed to be more comfortable with the process
Teacher Training workshop
October 11-12, 2021 – DNPF organized a training session on the role of the teachers in educating parents about executive functions in ECD. The training workshop is a collaboration of DNPF, SRRU and DLA with 207 teachers, participating online.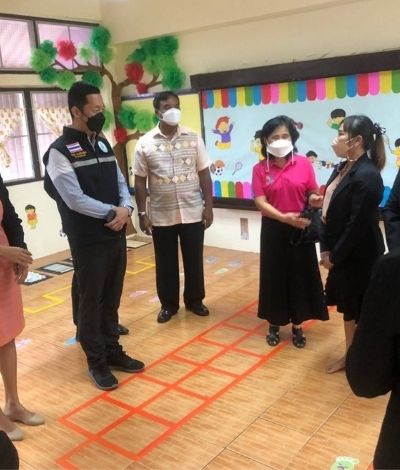 Welcoming the Deputy Mayor of Muang district in Surin and team
October 7, 2021  – The deputy mayor of Muang district in Surin and team visited SRRU demonstration school. Teachers introduced the classroom activities that support early childhood competency and executive functions. Q & A session was also held at the end of the visit to give teachers opportunity to share their experiences between teachers, school management, DNPF team and members of the Faculty of Education, SRRU.
The miracle of reading for early childhood
October 5, 2021 – DNPF joined a zoom webinar about building reading skills during in early childhood in the digital age. This has enhanced the capacity of the team in experiencing the miracle of reading.
Upgrading of teaching and learning materials
October 1, 2021 – DNPF has been helping teachers in upgrading of teaching and learning material as well as the surrounding of center. Coaching of teachers of SRRU demonstration to prepare for a study visit from Surin Municipality ECD center. Trained the teachers in their classroom introduction of activities.
Meeting with Surin provincial officer of the Ministry of Social Development and Human Security (MSDSH)
September 20, 2021  Presented the ECD strategic plan to the Surin provincial officer of MSDHS about training teachers in supported private schools. She asked DNPF for support in permission to send teachers from 11 private schools to attend the Foundation's training on October 11-12.
Strategic plan
September 14, 2021 – Prepared a strategic plan for developing the competency for early childhood teachers in Surin Province with SRRU. The plan followed the framework of the national development plan of the Ministry of Education. The draft will help the Foundation have a clearer road map to achieve long-term goals in the future.
Coaching and training of trainers
September 3-8, 2021 – DNPF arranged a session in training of trainers online for ECD teachers on "The Role of Teachers in parenting education.
Review meeting of Covid-19 safety measures
August 27, 2021  Surin ECD sub-committee had a meeting to review the Covid-19 safety measures at the Surin Provincial Government Center and discussed DNPF's workshop on the Excutive Function (EF).
Third coaching session
August 20, 2021 – Reviewing the benefits and limitations in creating video clips so that teachers can share with parents on how to produce simple video clips.
Second coaching session
August 18-19, 2021 – A total of 51 teachers participated in the second coaching session and presented their projects and activities. ECD teachers are from the following centers: 1) 11 teachers from Nong Sanit 2) 9 teachers from Tanee 3) 10 teachers from Salakdai 4) 9 teachers from SRRU demonstration school 5)7 teachers from Nadee and 6) 5 teachers from Kok Klang)
A series of coaching sessions prior to the annual teacher training
August 9-10, 2021 – DNPF facilitated the 1st coaching session to teachers of Tanee, Nong Sanit, Salakdai and Donraed ECD centers. The foundation presented the impact of Covid-19 on children and the responsibilities for parents to provide children learning activities. Q & A session was also held to provide teachers to give reflections and ask questions.
Tik Tok video creation
August 6, 2021 – DNPF team attended the TikTok video creation training through Zoom. The training involved tips and tricks on how to create interesting content and attract viewers. It provided new knowledge that can be taught to teachers so that they can create TikTok videos to show parents how adorable children are in the classroom.
Learning package for parents to do activities with their children
August 4, 2021  Creating learning activities for the knowledge sharing program with parents. DNPF team and SRRU reviewed 60 activities designed by SRRU pre-service and DNPF team and selected some as examples for the coaching program.
Virtual Meeting
July 20, 2021 – DNPF team visited the ECD center and school at Kantuad-
ramaul Subdistrict Municipality.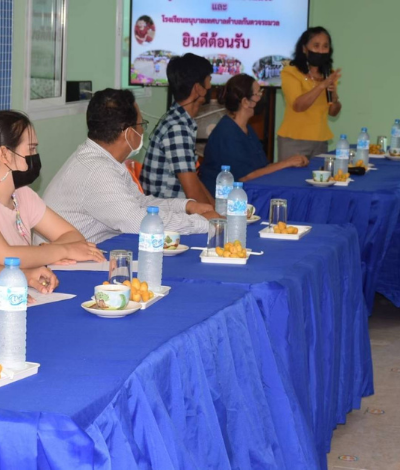 Visit ECD Center
July 8, 2021 – DNPF team visited the ECD center and school at Kantuad-ramaul Subdistrict Municipality.
Document Review
July 7, 2021  Reviewing of lesson plan for the SRRU demonstration school.
Finalizing of the article about the impact of Covid in ECD.
Coaching and Monitoring
June 24-25, 2021  Coaching and monitoring of SRU demonstration school to check with teachers whether there are any issues/challenges face during the two weeks of the school opening.
Ready To Open
June 9-11, 2021 – DNPF team met with the school management to make sure that all parties are ready for the school opening on 14 June.
Meeting The SRU Teachers
May 27-28, 2021 – Meeting with teachers from SRU demonstration school to discuss skills/techniques in designing classroom setting and activities corners to enhance children cognitive skill.
Consultation Meeting
April 30, 2021 –  Consultation meeting with the school management, teachers and pre-service teachers on classroom setting and activities corners.
Strengthening The SRU
April 23, 2021 – Meeting with teachers from the SRU demonstration school.  The meeting is part of the DNPF's support in strengthening SRU Demonstration ECD center. The teachers reflected their thoughts in different areas such as working with peers and self-reflection.
Meeting at Ban Tra Bak School
April 8, 2021 – Meeting with Meechai school at Ban Tra Bak School with members of Salakdai SAO, Ban Tra Bak School principal, teachers and students in 4-6 grade, education committee and health volunteers, a total of 120 persons.
Preparation Meeting
April 3, 2021 – Preparation meeting for the bi-annual teachers training with 10 ECD teachers and SRU professors.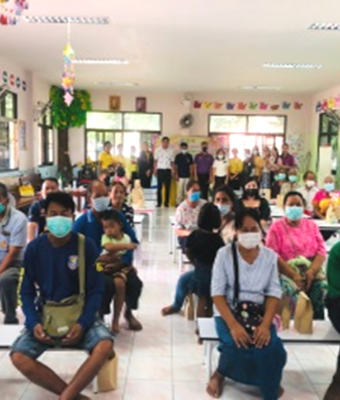 Knowledge Sharing Session
March 24, 2021 – Knowledge sharing session with teachers and parents of Wat Chai Prakhom ECD center. Topics included the national ECD standards and development of children skills as well as how to organize play and learning activities at home.
Khok Klang ECD Center
March 19-21, 2021 – Helping to improve the environment settings of Khok Klang ECD center in Burirum. Distributing responsibilities between the teachers for a smooth transition in facilitating the daily activities.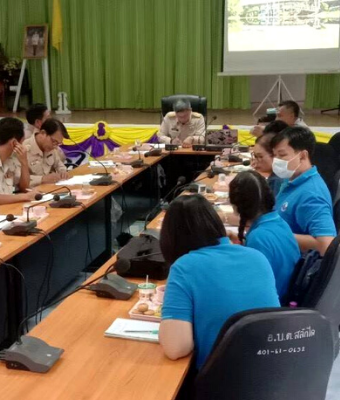 School Partnership Project
March 8, 2021 – Meeting with Khun Meechai Veravaidya's team on School Partnership project, Slakdai sub-district.  The aim is to improve the quality of education through; school-based management, capacity of building of teachers and learners.
Montessori ECD Center
March 5, 2021 – Visiting the Montessori ECD center in Roi-Et with DNPF team members and SRU students.
Baan Rasai Songchan ECD Center
March 3, 2021 – Coaching at Baan Rasai Songchan ECD center, Nadee
Focusing on designing of daily activities!
"Encouraging children to present their work and ideas as well as welcoming questions from their friends"!
Learning By Doing
February 15-18, 2021 – Coaching of rooms 1 and 2 of Ban Krathom Phrong ECD center in Nadi SAO.
Coaching teachers in room 1 on how to give children opportunities to learn on their own.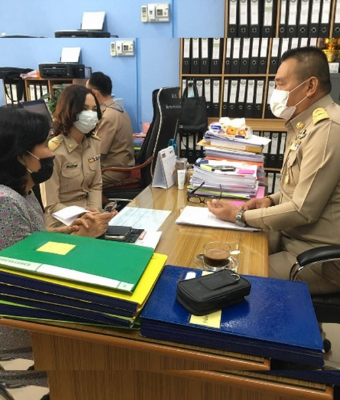 Meeting with Provincial Officer
February 8, 2021 – Meeting with Provincial Officer to update DNPF's upcoming activities including the preparation for the bi-annual teacher training.
Ban Nong Prue ECD Center
February 3-4, 2021 – Coaching of Ban Nong Prue ECD center, room 1 and 2, in Tani SAO. The center are progressing in many areas and the children are learning to help themselves.
Parenting Education
January 25-26, 2021  Information sharing session with 40 parents from Bam Kam ECD center, Bukrang SAO by DNPF and SRU.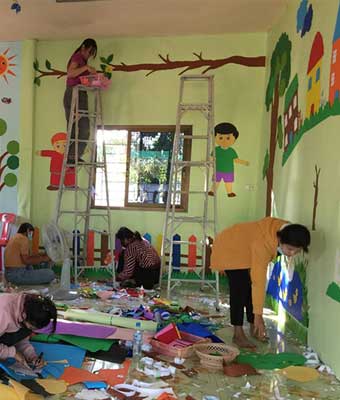 Decoration & Improvement
January 7-8, 2021 – Designing and expanding learning space at Wat Nikhomkhet ECD center, classroom no. 1
Visit Thambon Tani
January 5, 2021 -Visiting 3 ECD centers in Tani SAO and conducted a meeting with Tani SAO committee.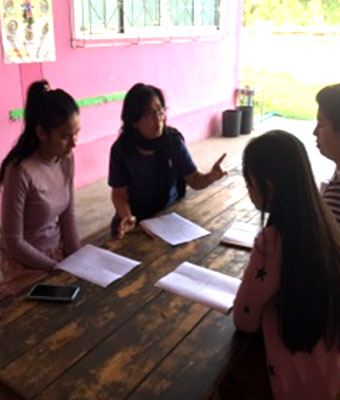 Activities Plan for 2021
December 25, 2020 – Consultation session with DNPF team on activities plan for 2021
coaching and mentoring plan by NIST: buddy system
support Kok Klang ECD center in Buriram
training for community leaders in Salakdai and Donraed
Study visit to Mechai Bamboo School
December 18, 2020 – DNPF team, SRU, Rajabhat Buriram and Kok Klang SAO visited Mechai Bamboo School, Kok Klang, Lamplaimas, Buriram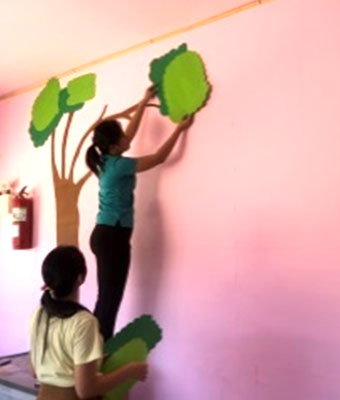 Expanding Learning Space
December 15, 2020 – Designing and expanding the learning space of classroom no. 1, by adding learning corners i.e. educational games, creative arts, music and science etc.
Meeting at the DLA Office
December 3, 2020 – DNPF team met with the Director-General of the Department of Local Administration (DLA) and team, to update DLA on the result of the implementation of national guideline to monitor children competencies and to discuss the possibilities of holding a national forum on ECD.
Creating Wood Playground
November  17-18, 2020 – Creating a safe and supporting learning environment in Baan Krathomprong with the support from Nadee community.
Adding Creativity Corners
November 3, 2020 – Creating creativity corners for Nong Sanit Early Childhood Education Center.
Training on Active Learning
October 26-30, 2020 – "Building the competency of the children through Active Learning activities in their daily routine" training program for 85 participants by DNPF team, SRU,  Salakdai and Donraed SAO.
Launching Training Series
October 26, 2020 – The Director General of the Department of Local Administration opened the Training on the Design of Capacity Development for Early Childhood based on the daily activities and Active Learning Method held 26-30 October 2020 at SRU.
Volunteer Opportunity
Feb. 4, 2020 – Surin Rajabhat students led by Ajahn Piyanun and Ajarn Pongnapa join the Early Childhood Development Volunteer Activity at the Child Development Center, Chaiyaprakom Temple, Salakdai Subdistrict, encouraging teachers. And activities are encouraged to educate parents in the early childhood development. There were many parents participating in this event as well.